Hi Dear D'lunatic, we will make good event for all people in Blueland, we are inviting old players to join and make a new story with us.
So please login in the game we will record your action in the game and create videos for us.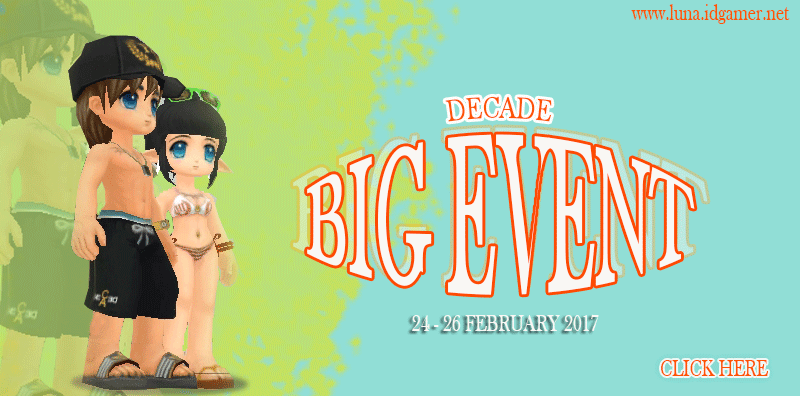 Event Boss [Lv.110] : [EVENT] One Eyed Wokis
Map : Nera Harbor
Event Start : 24 Feb 2017
Event End : 26 Feb 2017
Event drops:
Decade 3rd Anniversary Box
Decade 3rd Anniv Costumes

Smaller Pills

Bigger Pills

Exp 50%

Exp 100%

Coin 100M

SP +5

Decade 3rd Anniversary Glasses

Yellow Superphilo

Purple Superphilo

Red Superphilo

Dark Water

Dark Heart

Balrog Head

Balrog Body

Candy Box
So to get this box you need new character level 90 - 130 because the gap from event boss is 20 levels.
Other event:
Everyone who gets the most Decade 3rd Anniversary Box will get extra prizes:
1st : 200 Premium Point
2nd : 150 Premium Point
3rd : 100 Premium Point
Please invite your old friends to join, chat them and ask them to play again with us. if you have question please leave a comment